ESCAPE THE 8-BAR LOOP
Escape the 8-Bar Loop is a special composition course on how to make electronic music using Session View, where Ableton is at its best.
You'll learn how to create the buildups, peaks, drops and transitions that turn your loops into complete songs.
This is how to get the most out of Ableton for performing, improvising, and flowing with your music (instead of fighting against the timeline).
Not many people are teaching it this way.
Here's a little tour to show you what's different about Escape the 8-Bar Loop.
WHAT MAKES THIS DIFFERENT?
SESSION LESSONS™: You learn by building an actual track in Ableton, with guided projects that lead you through the process -- instead of sitting there watching tutorial videos.
NO TIMELINE EDITING: in this course we build tracks in Session View, where Ableton functions more like a live electronic set than like a fixed layout in the timeline.
IMPROVISATION: this means you compose by feel and by ear, experimenting to see what works, and capturing it when it does... not visually counting blocks and bars and minutes and seconds on the screen.
ORIGINALITY: you learn to develop your own ideas to the fullest -- not copying someone else's template in the Arrangement.
LIVE PERFORMANCE: this course is perfect for building a live set where you can express yourself differently every time -- not just DJ'ing a stereo mix from Traktor.

UPGRADE YOUR WORKFLOW

Here's what you'll be able to do after you escape the loop.

Build tracks with an epic climax that people remember
Keep your music interesting all the way to the end
Play your tracks live from Session View
Jam with FX to make exciting new versions at every show
Create tracks in the flow, spontaneously, without stopping
Stop endless editing in the timeline
Stop making boring tracks that go on forever
End frustration with your music
Finish your pile of stalled projects
Play bangin' live sets with your own original tracks
Change from DJ to "live electronic set" and book better time slots at gigs!

FREQUENTLY ASKED QUESTIONS
---
Who is this course for?
This is for Ableton producers who make electronic music like house, techno, DnB, etc. This is not for rock bands, any other DAWs, or live musicians. The course material will work for every genre of electronic music.
---
Is this for beginners?
No, it is not for raw beginners who just got Ableton for the first time. You need to have a basic working knowledge of Ableton Live for this course.
---
What Ableton skills do I need?
Creating and launching Clips in Session View, Switching between Clip and Device views, MIDI and KBD mapping modes, Automation envelopes, Track In/Out assignments, Warping audio clips & warp markers.
---
Which version of Live do I need?
You need the full Suite version. The .alp files require Live 9.7.2 or newer to open. You can't do this course with Live 8 or earlier versions.
---
Does it work for Mac and PC?
Yes, the course works for PC and Mac. The key commands listed inside are for Mac OSX, but they are easily adaptable to PC (cmd / ctrl).
---
What equipment do I need?
Ableton Live 9.7.2 and a good pair of headphones. It's nice to have studio monitors and a MIDI controller with eight knobs for the FX, but that is not essential.
---
What makes this course different?
You learn by building an actual track in Ableton. Session Lessons give you step-by-step audio instructions, automated examples and hands-on activities to do INSIDE the program -- so you learn by doing it.
---
How can I find you when I have a question?
Email is best, I answer every message and I'm on email every day. Allow 12 hours for differences in time zones: steve@mixitecture.com
---
Are you a certified Ableton instructor?
Not yet but I'm excited to get certified as soon as they offer the Certification Program again in my area.
---
How long does it take to do the course?
I recommend you set aside two hours for each module. That will give you enough time to download and open it, do the activities & exercises, then play around and have some fun with the built-in sounds. You could finish this course in a week if you work on it every day.
---
How long do I have access to the course?
After you join, you have unlimited 24-7 access to the course. There's no time limit for access.
---
What if I can't start right away?
You can join now and start the lessons when you have time. It's entirely self-paced and I'm available for support with you at whichever stage you have questions. You get access to all the materials and you can start whenever you're ready.
---
Do I need to own a Push2 for this?
No. You don't even need Push1. I built it to help everybody, even if you only have a laptop and headphones.
---
Will this work with external synths?

No. The MIDI communication for using looped clips with external synths requires some advanced MIDI skills that I do not teach in this course.
---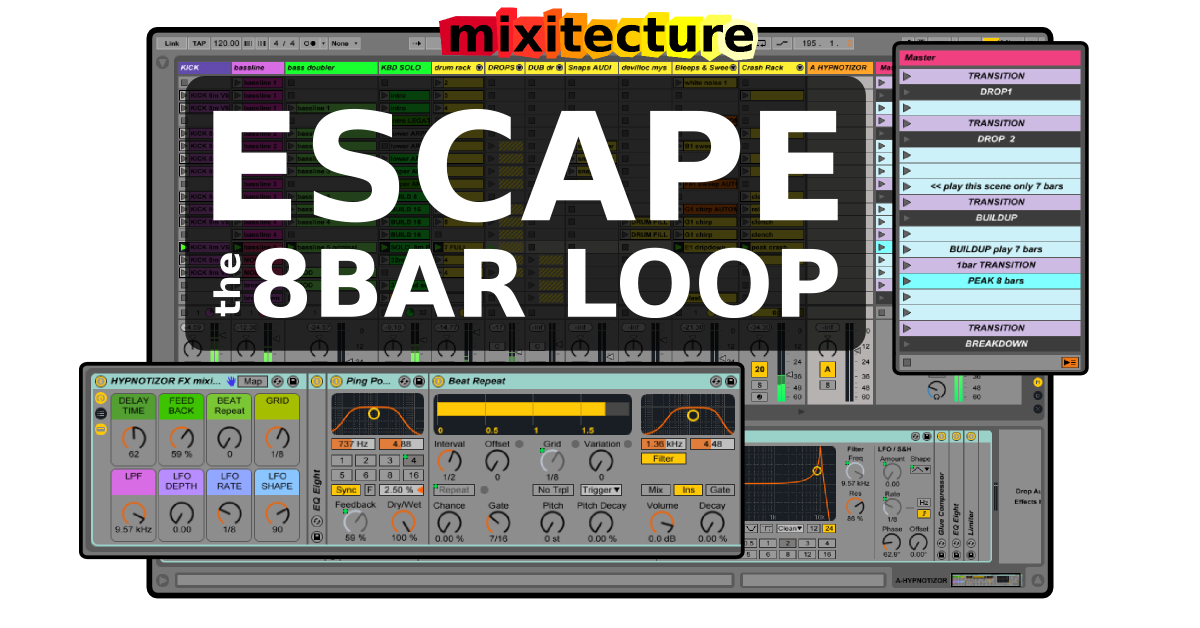 WHAT'S INCLUDED
Here's what you get when you join Escape the 8-Bar Loop:
Five downloadable Session Lessons (.alp)
Audio instructions, automated examples and hands-on activities in each Live Pack
Specific MIDI and audio exercises with clips in Session View
A demo track to build as you work through the modules
Written lessons on this site with PDF downloads for support
Three Bonus Instruments for making risers & FX
Track Feedback to check your progress in the mixitecture Facebook group
Personal email and chat support from Steve
24-7 unlimited access to all course content
This will change the way you make music with Ableton.

THERE'S NO RISK

I want to make sure you get what you need, so I'm giving you a risk-free way to check it out.
You get three days to start this course free and see how everything works.
If it's not what you expected, you can cancel your payments and you won't be charged anything.